Pharmacy College Administration
Based on the importance of the human element and its effective role on which the work and education system is based, the college administration works to fulfill the college's needs for administrative and financial matters in the best way to serve students, faculty members, employees and researchers, and to follow up on their employment affairs, using the mechanisms of action. Sophisticated and simplified procedures that help to optimize the utilization of human energies in the faculty.
The organizational structure of the college administration
Financial and Administrative Affairs - Male Side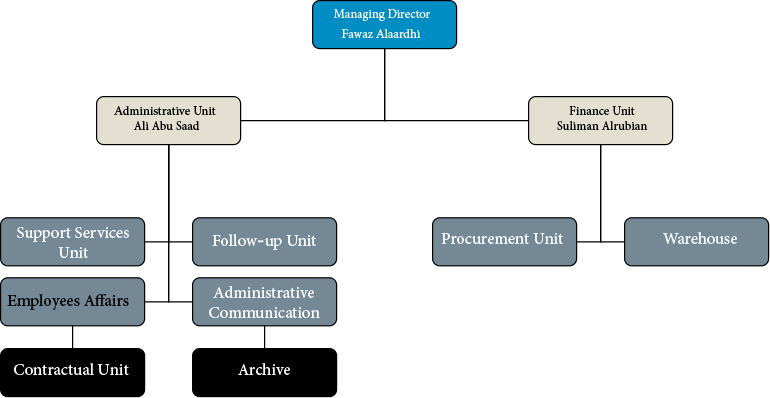 Financial and Administrative Affairs - Female Side

The College Administration Services
Follow Up On administration work flow and administrative procedures and the safety of the procedures
Applying and updating quality procedures in the administration and departments of the college
Distribute the employees according to the needs of the departments.
Issuing internal decisions that contribute to facilitating workflow.
The link between the supporting deanships and the college.
Determining the training needs of employees, requesting courses to raise performance, and nominating employees for training courses.
General supervision of the completion of all tasks of the units of the department (personnel affairs, support services, administrative communications, financial affairs and procurement).
Pharmacy College Departments Tasks
Administrative Affairs Unit
Employees Affairs
Registration, approval and cancellation of leaves in the (MADAR) system
Exporting vacation to the system ( Diwan )
Preparing correspondences related to college employees.
Handiling employees post-vacation issues
Recording employee data in cooperation with the Quality Unit
issues resignation, request to attend conferences, request for the statement of contractors, letters of the University's Safety and Security Department
Follow up employees Attendance.
Follow Up on Executive actions (salary deduction, behavior notice )
Follow up on Employees vaccations proceduers.
Responding to inquiries from university departments.
Preparing separate monthly reports recording employees absence, lateness and submit them to the concerned authority .
Researcher contracts renewal letters.
Follow up contract transactions with the recruitment unit.
Addressing the university relations unit to receive new contractors.
Administrative Communications
Exporting and recieving all colleges transactions.
recording and documinting all employee data.
Provide information as requested.
Supporting faculty members
Clearance of all faculty procedures ( Id renewel and travel document ).
Review the transactions of faculty and contract staff.
Finance Affairs
Purchases and warehouses
Organizing the financial works of the college
Coordination with university central warehouses in all related matters.
For Contact

Male Department
| | | | |
| --- | --- | --- | --- |
| Name | Position | E-Mail | phone |
| Fawaz Alaardhi | Manager Director | | 0114677457 |
| Suliman Alrubian | Finance Unit | - | 0114677454 |
| Ali ABu Saed | Administartion Unit | | 0114677456 |
Female Side

Manager Director
| | | | |
| --- | --- | --- | --- |
| Name | Position | E-Mail | Phone |
| Raghdah Abutarboush | Manager Director | | 0118051604 |
| Bayan Alarifi | Manager Director Secretary | | 0118050845 |
| Aqeelah Alobaidan | Manager Director Secretary | | 0118050489 |
| Lamia Almeshael | Finance Unit Manager | | 0118052606 |
| Sara Alshareef | Suporting services Unit | | 0118058043 |
| Reem Bin Mjali | Employees Affairs | | 0118052350 |
| Asma Almiqbil | Communication Unit | | 0118052305 |