Laboratory Overview:
Our mission is to apply globally effective best practices in providing world-class laboratory research and services. Consultation, training and technical support are also provided to all laboratory workers.
We value teamwork and therefore contribute to interdisciplinary joint research by providing services from our own field.
We value excellenceand therefore measure our performance against external standards as well as evaluate our work through peer reviews and research grants.
We value high ethical standards and scientific integrationso we demand commitment to the national and global policies governing research. In addition, we strive to create an environment in which excellence prevails in targeted research.We provide ongoing and easy support through our grants to complete long-term research and achieve scientific objectives. We encourage our employees and empower them to have great goals and to address important questions with perseverance and without restrictions.
We have partnerships with research communitiesto create a culture of high achievement and to contribute to shared responsibility and to the commitment of research ethics and conformity. We also enhance the capabilities of faculty and researchers to obtain and manage grants.
Laboratory organizational structure: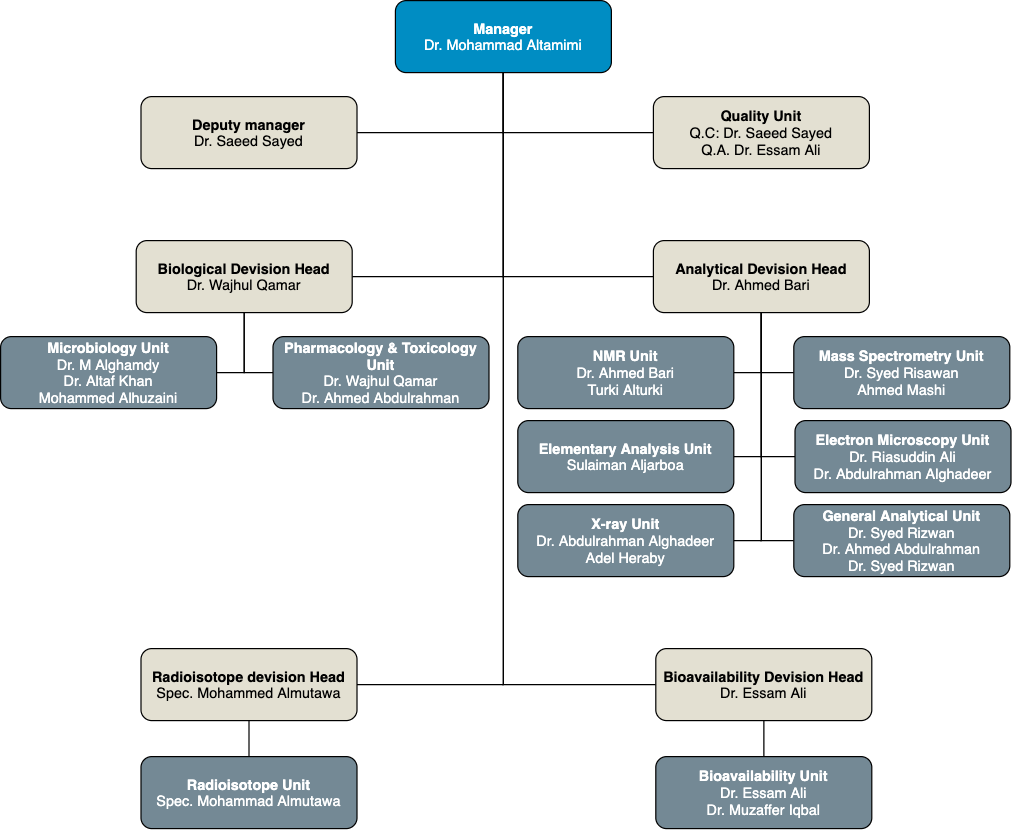 Central laboratory structure:
Based on devices and analyses, the central laboratory consists of a number of departments and units.
Sections/units:
- nuclear magnetic resonance spectrometer unit
The NMR provides advanced analysis of samples provided by university researchers in general and samples provided by faculty and students in particular. We contribute to interdisciplinary joint research by providing our services within our scope.
The unit contains GC-MS, GC-MS, HRGC-MS HD MASS SPECTROMETER HRGC-MS.
The Mass Spectrum Unit is committed to providing professional service to its customers by ensuring the quality of test results conducted by world-class trained personnel, in line with the laboratory's good practice.
The ICPMS unit specifically focuses on the analysis of elements in various types of samples which include oils, plant-derived materials, medicines, food ingredients, water etc. The unit contains the latest hardware for this purpose. The primary device is the Parkin Elmer's Inductively Coupled Plasma Mass Spectrometry (ICP-MS) that can identify and measure more than 75 elements in a single actuation.
The unit contains a Scanning Electron Microscope SEM made by Carl Zeiss, USA and a Transmission Electron Microscope TEM by Jeol. The unit receives samples from different fields, but the majority of samples are analyzed for nanomedicine research, and other samples are analyzed from other research fields.
. The unit has the ability to train individuals related to academic and industrial fields.
The X-Ray unit mainly performs its role in analyzing research and industrial samples to identify elements and phase identification of crystal. The X-ray unit contains two main research machines:


Uses:
X-Ray Fluorescence Spectrophotometers are used in a wide range of applications including
Pharmaceutical uses
Research in volcanic fiery sedimentary transformational oil science
soil surveys
Mining (e.g. rough grade measurement)
cement production
Manufacture of glass and ceramics
The General Analysis Unit provides support and services to researchers and students. The section includes a differential heat measurement by SurveyDifferential Scanning Calorimetry (DSC), CHN Analyst, Quality Heat Analysis (TGA) Infrared Spectroscopy Transformation Forpe (FTIR) and the unit capable of expanding its services to the industrial sector and many organizations. In addition to the presence of high-performance liquidity chromatography (UPLC)
Waters Acquity's UPLC unit is committed to providing professional service to its customers by ensuring the quality of test results, carried out by world-class trained personnel, in line with the good practice of the plant.
The function of this section is to use the radiological isotope detector in scientific research. Practical lectures and presentations are conducted for undergraduate and postgraduate students in the department of pharmacists in this unit. Any research involving radiological isotope detection can be carried out in the unit as well as for the unit capable of conducting many industrial and environmental applications.
The section contains the following devices:
Solid flash detector: used to detect gamma ray emissions (y)
Liquid flash detector: Used to detect alpha (a) and beta (B) radiation emissions.
Geiger and Müller counter: The Geiger Radiation Meter (Grigger-Mueller Tube) is a device used to detect and measure all types of radiation (alpha, beta and gamma radiation).
Ionization chamber: Used for general radiation survey and measurement of ion radiation including X-rays, gamma rays and beta molecules.
Becquerel Pollution Detector: Used to detect radio signal contamination in various types of products including food, water, medicines and environmental samples
Dose calibration: Used to calibrate the dose of radioactive pharmacists.
Biological department:

​Pharmaceutical and Toxicology Unit
There are many devices installed in this unit, for example:
RT-PCR Manufacturing (Applied Biosystems) and Flow cytometer Manufacturing (Beckman Coulter FC500). These devices can be used to provide a very valuable service package that supports various research experiences. Many papers were issued using flowcytometer [5,14-17], using real time PCR [18] and other devices[19-23]. There are other certain entries for the biological section in the form of doors of a book or several books [24-29]. Other devices in the unit that researchers and students can use include gel electrolyte (protein and DNA), UV spectrometry, LiCor gel imaging licor system, centrifuge blood deposit separation device, small plate reader, digital thermometer for animal uses... etc.
Microbiology Unit (Microbiology)
The Microbiology Unit provides routine testing services to assist industries and the following research aspects: medicines, functional foods, cosmetics, personal care products, consumer products, steriles, antimicrobial products, food security and water quality.
The Microbiology Unit provides the following services to researchers:.
Antibiotic measurement

Less bacteria-killing concentration test (MBC)

Microbial identification of Gram-positive and Gram-negative bacteria

Microbial limit test

Harmonization test

Water test

Counting platelets (windmills) (misophil count)

Antimicrobial effectiveness (Challenge test)

Less inhibition composition (MIC)

Inhibition of range (allergy test).
The services of the Microbiology Unit of the Central Laboratory provide quality research and procedures through which the unit can be described as a standard microbiology laboratory. The Microbiology Laboratory unit is designed to ensure that professional services of quality and technical excellence are available to the Faculty of Pharmacy and other departments of King Saud University.
Analysis and testing of samples requires special skills that come as a result of academic qualification and experience accompanied by formal training. Our programmes address both the technical scientific aspects of analytical processes as well as work ethics and integrated training and require the process of providing data and results.
The results or analysis report is certainly our 'final product' as the quality of our report is reflected in our quality standards
You can communicate research training through the following means: